Coconut Milk In Thai Food
Coconut milk is a prominent ingredient in many Thai food dishes, There are infact two closely related coconut based ingredients, one is coconut milk and the second one is coconut cream. Coconut milk is used in spicey food dishes, made into coconut ice cream and also included in many Thai desserts. In this article on coconut milk, we discuss about coconut milk and also learn how coconut milk is actually made. Both coconut milk and coconut cream are extracted from the kernel of coconuts. Ideally the extraction of coconut milk and cream would be done from the kernel of fresh coconuts. Since it is quite likely that fresh coconuts might not be easily available, we discuss other options for making coconut milk. Readymade coconut milk preparations can also be used where available.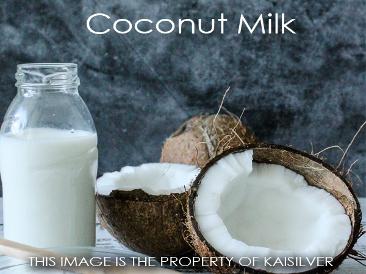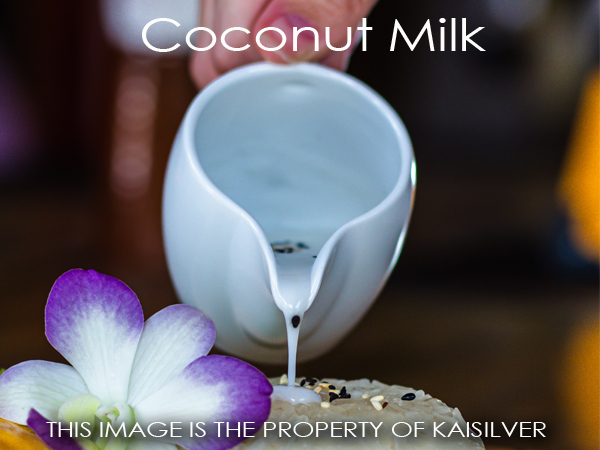 WHAT IS COCONUT MILK
If you split open a fresh coconut into two halves, you will notice the white layer that is just inside the shell of the broken coconut. This is referred to as the 'kernel' of the coconut. Coconut milk and cream are extracted from the kernel of the coconut.
COCONUT CREAM
We just mentioned that these two products are extracted from the kernel of coconuts. When you begin the extraction process, the first extract has a thicker consistency as compared to what subsequently comes out. The thicker consistency material is referred to as coconut cream, the thinner output is called coconut milk.
Coconut milk is of a consistency that can be poured into a dish. On the other hand coconut cream is generally scooped out using a spoon. Some Thai dishes use both, coconut milk and coconut cream. You might be able to get away without using coconut cream but, coconut milk should be present if mentioned in the recipe.
MAKING COCONUT MILK AND CREAM
Coconut milk and cream, can also be made at home. We briefly discuss some ways in which you can make coconut milk by yourself. Readymade products in the form of coconut cream or milk are available. You can use this option when making Thai food dishes. These readymade packets contain the coconut extract in liquid form. We have come across cases where only coconut cream is available in a ready to use pack. If this is a problem that you face too, try diluting the coconut cream with some water. You might be able to use this as coconut milk in the food recipe. Readymade coconut milk and cream cannot be stored for a long time once the packet is opened. You can store it in a refrigerator for around 3 to 4 days one opened. If you are going to cook your Thai food in small quantities, try getting a small packet so that you do not have to store it for long.
Dry coconut powder: Once again available in a packet form, this dry kernel powder can be used to make coconut milk and cream. You will basically need to use lukewarm water and then add the proportionate amount of dry coconut powder to that. Add less water if you would like to get a thicker consistency (coconut cream). Once you open the packet, the coconut powder can get spoilt if exposed to the atmosphere. It is therefor a good idea to pack and store the remaining powder in the refrigerator.
Desiccated coconut: A simpler and better known name for this is 'dried' coconut. Grating dried coconut and letting it soak for a while in hot boiling (not on the flame) water is one way by which coconut milk and cream can be extracted. Again remember that the first run would yield coconut cream and soaking in water again, would give a thinner consistency that can be used for coconut milk in the food recipe. A think clean cloth is used to drain the milk and cream after the dried coconut is soaked.
From fresh coconut: This is the preferred way to make coconut milk and coconut cream. Scrape out the fresh kernel from the coconut shell, soak it in boiling hot water (not on the flame) and then strain it through a thin clean cloth. Keep the first extract as coconut cream, the next extract would be thinner and can be used as coconut cream.
STORING COCONUT MILK
If you are making coconut milk or cream by yourself, try to ensure that the quantity you get is what you require for the food dish. You then will not be left with any storing hassles. Estimating the quantity required might take some experience, but you will soon become an expert at this.
If you are buying readymade coconut cream or milk, choose a packet size that comes as close as possible to your requirement. Once opened, you can keep the contents in the refrigerator for not more than 2 days. Trying to extend it's life by allowing longer storage is not a good idea. Food dishes prepared with such stale ingredients can get spoilt fairly soon.
SOME COCONUT USES
Some dishes that use coconut cream or milk. One of the popular spicy Thai food dishes called Tom Yum is often made with coconut milk as an ingredient. It is then known as Tom Kha. The sweet and sour green Thai curry locally known as 'Kaeng Khio Waan' uses substantial proportions of coconut milk.
It is not just the hot and spicey Thai food recipes that include coconut milk or cream, delicious desserts get their flavor from this coconut ingredient too. One such popular Thai dessert is bananas in coconut milk, also called 'kluai boo-at chi' in Thai. The recipe for this Thai dessert requires both coconut milk and coconut cream. The cooked bananas are soaked in coconut milk. In the final step to cook this popular Thai food dish, coconut cream is smeared on the bananas.
The extremely popular mangoes in sticky rice dish, is another Thai dessert that uses coconut milk. In this case a mixture of coconut milk, sugar and a pinch of salt is provided as a side dish. You take a spoonful of the mixture at a time and drop it over the sticky rice as you eat the mango with the rice.
REPORT COMPILED
This report is compiled by the content and public relations team at Kaisilver. The leading online custom jewelry provider for over 2 decades, Kaisilver has no interest in the food industry. You can email us with your comments and questions at info@kaisilver.com we will be glad to respond to any suggestions that you might have.