Social Media Marketing
Magical Benefits Of Social Marketing
For businesses that understand the power of social media marketing, no explanations are required to impress on derived benefits. However there is an entire segment of business that knows little or nothing about online marketing or social media marketing. These businesses are unaware that, the benefits of social marketing can benefit them with very little effort. Easyrambler explains how to do this with almost no sweat or money. We will not complicate things with explanations about various social media vehicles like, Instagram, Facebook, Twitter etc. Let's keep it simple and easy.
The inspiration to write this report came during the end of the Year festive season - Christmas time, to be more precise. It all began with a gorgeous Christmas tree decorating a busy street in Bangkok, Thailand. A shopping outlet had recently opened in the jewelry district of Bangkok. A busy street, affluent buyers, savvy office going crowd. The street also happens to have a chain of hotels generally fully booked by foreign tourists. The company that set up the shopping outlet, put up a tall, pretty Christmas tree right next to the main road. It happened to be one of the few signs of Christmas on the entire street.
This Christmas tree attracted attention even in daylight hours when the decoration lights were not turned on. Families, office going crowd and tourists often came up to the tree posed in front of it and took photographs. With the impressive quality of cameras that exist in even economically priced smartphones today, you can be sure that those pictures were truly awesome. There is a very high possibility that, these photos would be posted on social media sites like facebook, twitter etc. Smartphones make this entire operation of taking and posting photos easy, interesting and exciting. Since most photos were taken with family, friends and office staff around the tree - the chances of the photos being shared, liked and commented once posted is high.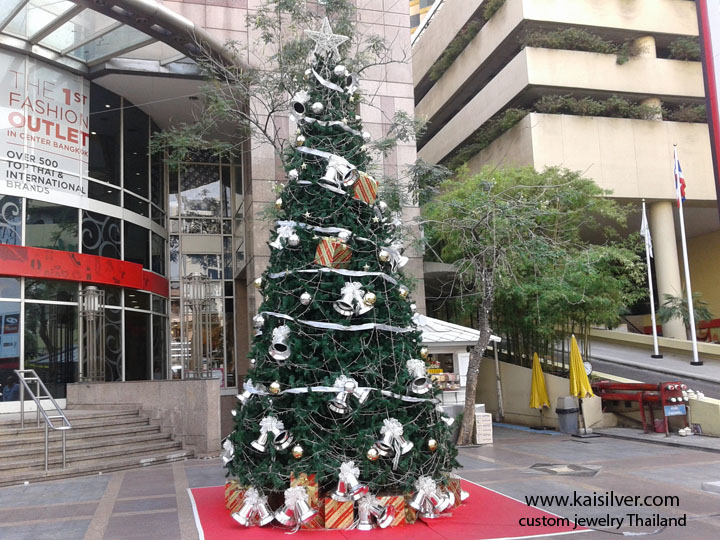 Now to the crux point, what would be the benefit received by this shopping outlet with all this social media posting and sharing activity. The answer is simple, very little or no benefit would be derived with all this social hype. Very few people who took photographs actually ventured into the shopping outlet building - they just posed for the photos, made sure that they looked pretty in the pictures, smiled and walked on.
So how could this shopping outlet have drawn benefit from the social media activity, with not much effort. Let's give them some advice which, they would probably use in the coming holiday season. The Christmas tree was around 20 to 22 feet tall. The decorations were pretty and went all over the tree, the night lights would make it look even more pretty. The outlet would have done good, to wrap some sort of a banner round the tree. The banner could be around 10 - 12 inches wide, and have a clearly printed message. Something like 'Bangkok Shopping Outlet - Silom Road'. The banner should have been put at around 5-7 feet from the base of the tree.
When people took photographs of themselves standing near the Christmas tree, they would have got this banner in their photos. And this banner would be visible in most if not all, photos that got posted and shared on social media websites. The operation of putting up the tree, maintaining it for around two weeks and footing electric bills each night would have cost quite a bit. But the introduction of a banner with their sales message would cost just a bit - the benefits would be huge.
It would be apparent that the shopping outlet would have got the benefits of social media without, spending too much. Keep the above example in mind when you adopt any marketing strategy. The benefits of social media marketing can come like magic, you would hardly need to exert yourself to draw these benefits. A personal friend, had recently set up a business to quick print T-shirts for various clients. He had an artist stationed in the office to help clients develop logos and catchy slogans to print on their T-shirts. The concept could be extended to office stationery, caps, calendars and even coffee mugs. After going through some of his new work, we realized that he had talent and passion for the business. A suggestion that we put up to him, today gets him many more clients and dollars. We asked him to gradually learn and provide more constructive advice to his clients. The advice to relate to getting more mileage from their printed campaigns. For example, a local fitness club had ordered T-shirts with the bold message - Exercise To Live. On the next line was the name of the business 'Perfect Body'. The fitness center had it's own business website too, small but informative and impressive. We suggested that the business place it's website name on the T-shirt too. To go a step further, you could even put a QR code on your marketing material. These can be scanned by smartphones and tablets and direct, the viewer to a website or even a specific web page on a website.
Share the above information with your friends and acquaintances and if you run a business, make useful suggestions to your clients. Placing yourself as a knowledgeable source for business related issues can quickly build you a reputation that - clients love to do business with reputed vendors. We will be back soon with more interesting information to share.
Keep Rambling
easyrambler