Vegetarian Food In Thailand, Suggestions and Tips
When you enter a restaurant or food stall in Thailand, they expect you to be a non-vegetarian! Most Thais are non-vegetarians and the fact is that most visitors to this wonderful country are not particular about eating vegetarian food too. Getting vegetarian food in a country like Thailand can be a challenge, the language barrier adds it's share of challenges too. In this report we are going to talk about getting vegetarian food in Thailand. Keep in mind that vegetarian food could mean, any type of vegetarian food or Thai food that is vegetarian. Communicating in English is not bad in the main cities Bangkok, Chiangmai, Pattaya and even Ayuthaya have a substantial number of foreign visitors each year - the local people especially in shopping malls and restaurants will manage to understand your English. Things can get more complex if you plan to move out into the countryside and lack Thai language skills. With a little bit of innovation and a bit more of patience, you will end up getting the vegetarian food that you want. If this effort does take a few hours more than you anticipated, remember that Thai fruits are delicious and can satisfy that hunger for a while. Convenience stores like 7-Eleven, AM-PM and Family mart stock bread, butter, jams and some vegetarian chips. If you are looking for strictly vegetarian food in Thailand we might tell you that, chips and waffers can often contain flavors that do not have a vegetarian origin.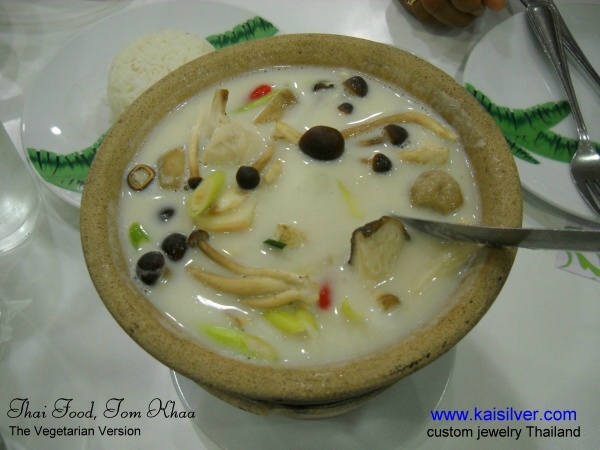 Here are a few issues that you will need to consider when looking for vegetarian food in Thailand. There is no scientific formular or management strategy involved, all you need is a cool head and the willingness to keep trying. A simple question that you need to ask yourself,
how vegetarian are you
! Don't worry about the grammar and style in that question, here is the explanation. Can you eat eggs, do you mind a little fish sauce in your vegetarian food. These might seem to be foolish questions but many so called vegetarians, are not 100% vegetarian. A compete vegetarian would not eat eggs, fish, any type of meat and probably even stay away from dairy products like butter, cheese, cream and milk. The fact is that, the closer you are to being a 100% vegetarian, the harder you are going to have to try to get food that suits you. Let us now look at various scenarios, you might find that some situations make it really very easy to get 100% vegetarian food even in a country like Thailand. Before we move ahead we will need to clarify
two confusing Thai words
that are often used to describe the word 'vegetarian'. The vegetarian food that you get in Thailand will depend on the word used to describe 'vegetarian' so make sure that you pay attention to this information.
Strictly speaking vegetarian food, would exclude dairy products like milk, cheese, butter etc. Meat, fish and eggs would also not be a part of vegetarian food. Members of a
certain religious sect
in Hindu dominant India, have their own definition for the term vegetarian food. These people exclude onions, carrots, potatoes, garlic and anything else that grows underground from their food items too. Many such people do visit Thailand and look for vegetarian food too, however we are not sure whether Thai restaurants can deliver such vegetarian foods. If you are on the look out for such vegetarian food in Thailand, here is our advice. Some Indian restaurants in cities like Bangkok are dedicated exclusively to vegetarian food. It is common for the menus in such vegetarian restaurants to offer this very strict type of vegetarian food dishes too.
Now back to the
two Thai words
that can be confusing when used to define the term vegetarian. One of the words is 'monk-sa-vee-raat' and this does not mean strict vegetarian. Such food when served in Thailand could include fish sauce, eggs and probably even fish. Not much to satisfy a completely vegetarian eater, so make sure that the staff know that you cannot each such food. Most people would be satisfied with vegetarian food in Thailand that is referred to as 'chey'. This is no fish, no meat, no eggs, no fish sauce and includes the use of vegetable based cooking oils. However garlic, potatoes, carrots, onions and even ginger could be used to make such vegetarian food.
An interesting even takes place in the month of Oct-Nov each year, the
Chinese Vegetarian Festival
. This happens all over Thailand and brings in Thai and Chinese followers. During the 8 to 10 day period, many locals eat just vegetarian food. Food sold to these believers generally excludes garlic too. This is very pure vegetarian food and can be eaten in department stores, roadside foodstalls and restaurants. It does not mean that you do not get non-vegetarian food during this time, both food types are sold. Eating places hang garlands or put up flags of triangular yellow paper or plastic pieces. The word vegetarian (chey) is printed in Thai on these flags. The signify that the eating place is serving vegetarian food for followers of the chinese vegetarian festival. Much of this food is made from vegetarian noodles, and various forms of soya. Some upscale coffee houses like Black Canyon even serve coffee with soya milk rather than
,
dairy milk during that time. Keep one thing in mind though, the vegetarian items served in most places during this time will not be found after the festival has ended. Special menus are printed during the Chinese Vegetarian Festival, they are withdrawn after the festival has ended. An interesting type of vegetarian food that you might find during this time looks very much like meat, this is infact vegetarian soya mass made to look like meat!
If you are having communication related issues to explain the type of vegetarian food that you need in Thailand, you could consider going to
foreign restaurants
. As expected most foreign eating houses in Thailand have staff or at least managers that can speak and understand the English language. Italian, Indian and even Lebanese restaurants offer vegetarian dishes. Yes Lebanese vegetarian food is delicious too and Bangkok's Silom area has some excellent Lebanese restaurants offering vegetarian food. Remember things like fruits, jams and bread are always easily available so you might not be too hungry if you miss one meal or breakfast - you ofcourse cannot live on these for more than 1 morning, afternoon or evening.
We do hope that this article on vegetarian food in Thailand has been helpful to you. We will summarize the contents and provide some
quick tips and suggestions
below, keep then in mind if you are particular about eating vegetarian food on your trip to Thailand.
- The big cities in Thailand might make it easier for you to get vegetarian food. Move out of the cities and communication (language) might become an issue.
- Most hotels would have English speaking staff and can understand your requirements. It might be a good idea to check the availability of vegetarian food before making a room reservation at the hotel.
- If you plan to do some travel or sightseeing and do not plan to have food at the hotel, have the hotel staff write down your specific food requirements in Thai language on a sheet of paper. Show that to the eating house where you plan to eat. Get used to hearing 'no', 'no have', 'not have' as many places might not be willing to go through the bother of specifically making vegetarian food for you.
- When you speak of vegetarian food, clearly hear and answer questions related to fish sauce, fish, eggs etc. The more strict you are with your definition of vegetarian, the more careful you need to be.
- If you are visiting Thailand for business or work, it is likely that you will be in close contact with local offices and companies. Get someone from the work place to take you or introduce you to eating places in Thailand that offer vegetarian food. They could also help you with writing instructions in Thai, show these to the eating places that you visit.
- If you are any type of medication and need to have food at a specific time, prepare for delays. A small fruit or even some vegetarian snack should be at hand just in case, you need to try very hard to find a suitable place that serves vegetarian food. Soy milk or even dairy milk is readily available at department stores, supermarkets and convenience stores. Some of these can be had with low sugar or no sugar content. Drinking yougurt is also an option when you desperately need to get something into your stomach.
This report is not compiled for any commercial gain. We urge you to pass the link on to your friends, collegues and acquaintanes. Thailand is a very popular tourist destination and draws visitors from across the globe. Food is a daily necessity for everyone and being unable to get the specific type of food that you require can be depressing, demotivating and destroy a perfect holiday. You can send your comments and suggestions to

easyrambler@rocketmail.com

we are always glad to hear from you.


Related Resources:
Vegetarian Thai Food
.
Thai Vegetarian Food Dishes