Looking After Your Digital Camera
In this photography related article, we will talk about looking after your digital camera. The things that you read in this article will be interesting since they go beyond the normal 'to do' that you would expect to read. For some reason people get impressed by reading some technical stuff, writers also feel a lot more important when they talk about technical stuff using technical jargon. This camera article is for the rest of us, simple minds that need simple advice. Most people get sentimentally attached to their camera. Losing a camera can be a painful experience.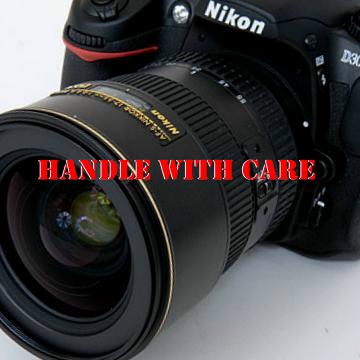 Storing the camera: Never keep the camera in damp or wet places. The moisture can damage the instrument, batteries can also rust or leak when exposed to heavy moisture. Get a neat padded bag to store the camera when it is not being used. Then place the bag safely in a shelf or cupboard. If you feel that such a bag is too bulky to take outdoors, you can still use it to keep the camera when it is lying unused at home.
Camera strap: Your digital camera will come with a strap and this can often be quite long. If you place your camera on the table or a shelf, lift the strap and keep it next to the camera. A dangling strap can get in a foor or hand and bring the camera crashing to the floor.
Take off batteries: Most of us use batteries in our digital cameras. It makes the camera more mobile and you do not need to lug a power cable along with you. If you plan to leave your camera idle for more than 2 to 3 days, make sure that you take the batteries out of the camera. Batteries can start to leak and ooze their insides in the camera! This could damage the camera and also short circuit some delicate components. Cheap batteries throw up this problem sooner than standard batteries. In any case it is a good idea to take the batteries off the instrument.
Camera bag: Your digital camera bag should ideally hold all the parnaphelia that is needed to take photos. At the same time, you do not want to stuff it and make it as large as a suitcase! Spare lenses, memory cards, batteries, lens cleaning fabric etc are what you would normally carry in the bag. Before you place your digital camera in the bag make sure that, the lens is covered with the lens cap. Turn off the power switch if there is one. If you do not have plans to use your digital camera in the next few days, make sure that you take off the batteries from the device.
Warranty card: Most digital cameras come with a one year service warranty. This will not cover problems or damage that is caused by improper or careless handling of the camera. So taking care of your camera is a must and not an option. Keep the warranty card safely, probably in the camera bag.
The lens: A very important component of any camera is the lens. Take every possible measure to ensure that the lens is not struck by physical impact. If your camera falls down, you can expect to pay heavy repair expenses. In most cases cameras damaged by falling down cannot be repaired. Digital cameras normally come with a lens cap. It is hard to lose the lens cap as it can normally be tied to the camera by a small string. However there are dozens of cameras used each day where the lens cap is lost!
Special lens wiping cloth is available to clean any dust or moisture that settles on the lens. If this cleaning does not take the dirt off your digital camera lens, take the camera to a professional studio and request them to clean it for you. Mositure can sometimes collect below the lens, this area is not easy accessible and will need professional help for cleaning.
If your digital camera has a removable lens, you probably interchange lenses during your photo shoot. If you interchange lenses on your digital camera, make sure that the removed lens is secured with lens caps at both ends. If you want to store your camera with the lens removed, use the cap on the camera body to cover the lens socket.
Using cables: This is a very important thing and most people are not even aware of it. When you put in cables into your digital camera or take them off, do so carefully. Rough handling can damage the sockets in the camera and repairing these is hard and expensive. Power adaptors are often used instead of batteries, the power cable should be gently inserted and taken off from the digital camera. Similary direct USB cables are common, they help to transfer the digital images from the camera to a computer.
Keep dry: All digital cameras including the cheapest ones, utilize a lot of electronic circuitry. Moisture and water can cause electric shorting, this could easily render your digital camera useless. If you plan to carry your digital camera on a dull or rainy day, make sure that it does not get wet. Carrying a large and sturdy plastic bag can be helpful. One such bag should always be kept handy in your camera bag. If your camera gets wet, taking it to a professional repair shop is a good idea. Do not try to dry it with a hair dryer or blower, this could push the water deeper into the camera and make matters worse.
You should be aware that most of the components used to build today's digital cameras are precise electronic circuits. The aperture, shutter speed and other camera settings are controlled digitally, not much of physical movement is involved. Overheating, moisture and physical impact are the three major causes of malfunction in digital cameras. If you own an expensive digital camera, you might consider getting a cheaper camera for casual use. This will extend the life of the expesive camera.
The above article provides useful suggestions about looking after a digital camera. This is not an exhaustive list but, we have tried to cover the main issues involved. We would love to hear your comments, email us at easyrambler@rocketmail.com