Chic24x7 On Fissure Filled Rubies And Sapphires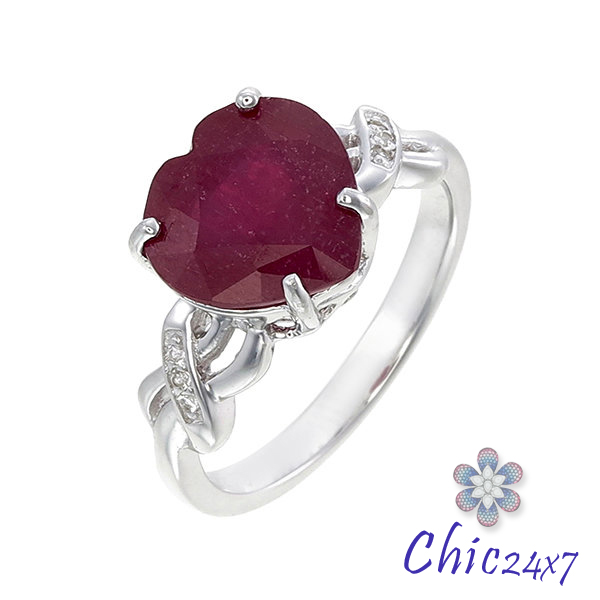 With the Chic24x7 online jewelry collection, featuring some amazing jewels featuring ruby and sapphire, attention moved to the price tags. The affordable prices raises one question, are those gems natural. To get a better understanding about fissure filled rubies we talked to Chic24x7 gem experts in Bangkok, Thailand.
In their opinion we required some basic understanding about natural gems and their treatments, this is what we got to learn. Most gems used in jewelry are treated in some way, dyeing, oiling, heating, fissure filling etc are the common processes used. When we talk about rubies and sapphires, as much as 90% of the output or even a bit more is treated. The most common treatment used for these gems is the heat treatment process. The price of heated rubies and sapphires remains quite high despite the treatment.
There is a large bulk of natural rubies and sapphires that, cannot be improved through the heat process. A decade ago, gem cutters and dealers gained success in an interesting experiment. A new type of heat process was developed for these two gems. The treatment delivered some spectacular looking ruby and sapphire. The gems were very affordably priced. It was Thailand that took the lead in developing the treatment, the trade referred to it as 'new heat treatment' in Thai. A more scientific name emerged and that was 'fissure filled' rubies.
The Chic24x7 online jewelry store from Thailand, showcases some exclusive silver jewels featuring fissure filled pink and blue sapphires and of course, the queen of reds - fissure filled ruby. If you happen to adore sapphires and rubies but, never seem to have a budget to buy them, this collection should come as a blessing. Silver necklaces, rings, bracelets, earrings and pendants are featured in a dazzling array of styles.
We hear all these glorious things about fissure filled rubies and sapphires, including the fact that they are very affordable but, is there a down side to this. The gem veteran from Chic24x7 clarifies this question for us. Fissure filled gems need a dose of care when being worn and cleaned.
With a fairly clear understanding about, fissure filled gems, should you buy jewelry with such gemstones. The answer is quite simple, if you wish to wear natural rubies and sapphires and not pay big dollars - fissure filled gems provide a great option. There are a number of jewelers selling such gemstone jewelry at exorbitant prices, this is an issue of business ethics and surely deplorable. Buying these jewels at a fair price with complete gem treatment disclosure is absolutely fine.