Buddha Statues, Collection Of Buddha Statue Images
This is a collection of Buddua statue photographs. Taken in various parts of Thailand, a predominantly Buddhist nation, this collection is one of the few online sources for such photographs. Do have a look and email us at easyrambler@rocketmail.com if you have any comments or suggestions. The Buddha statue images in this section were taken over a period of 1 to 2 years. All Buddha statues, images and amulets are considered to be very sacred. Show respect and decency when near such objects. It is illegal to trade in antique Buddha statues, so do not attempt to do any such thing. Most temples have brass or bronze replicas the prominent Buddha statues in the particular temple. You can take one home as a souvenir.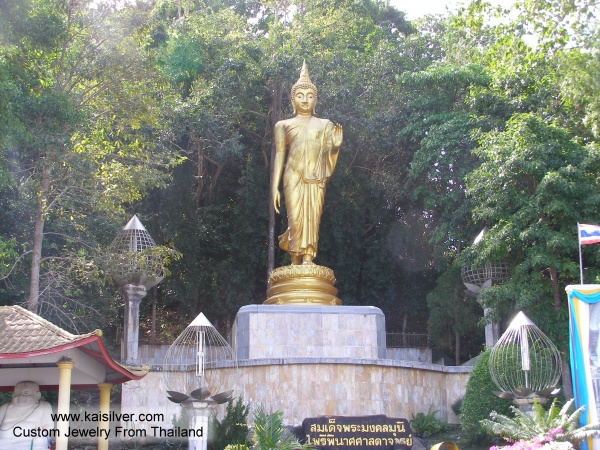 A standing Buddha statue, this is situated at the foot of a hill. Perched on top of the hill is a well maintained temple. The Buddha statue is framed in a pretty background of green trees. The lamps in front of the pedestal are shaped in the form of lotus buds.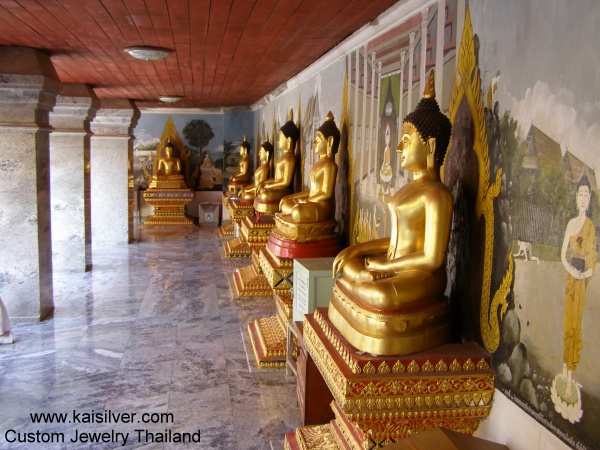 A row of Buddha statues, a spectacular view. Photographed in the Northern Thai province of Chiangmai. The floor of this temple is covered in marble. The background against which the Buddha statues are arranged has some fine paintings, based on the Buddhist religion. You need to visit such popular temples fairly early in the morning to get a neat and calm image like this one. The temples tend to get crowded as the day moves on.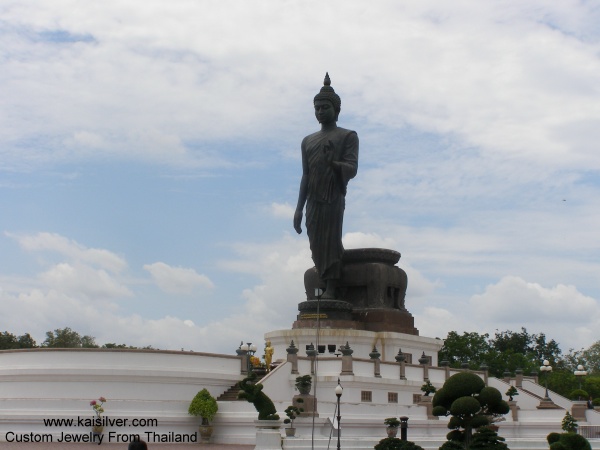 The Budhamonthon gardens in the Nakhon Pathom province of Thailand host this amazing tall Budha statue. The statue is at least 40 to 50 feet tall and looks awesome. The backdrop of the blue sky with a sprinkling of white clouds gives a majestic setting to this tall standing Buddha statue. Nakhon Pathom is not very far away from Bangkok.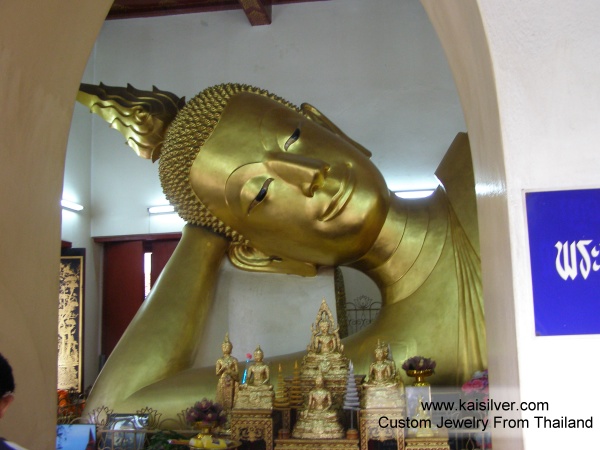 A very interesting image of a reclining Buddha statue. The room in which this impressive reclining Buddha statue is housed was quite narrow. You could therefore not dream of getting a nice photograph from the front, one that would cover the entire Buddha statue. Walked down to one of the large doors in the room and took this photograph. Looking at the reclining Buddha statue from here, you would have a top to bottom height of around 20 to 24 feet!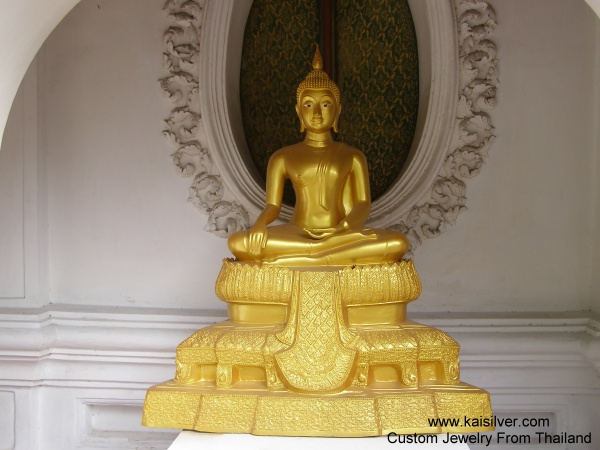 A fairly new statue of the Lord Buddha. One of the decorations in the premises of a Thai temple. This is the classic sitting pose in which most Buddha statues can be seen. Notice that the height of the pedestal on which this Buddha statue is placed is almost as tall as the statue itself.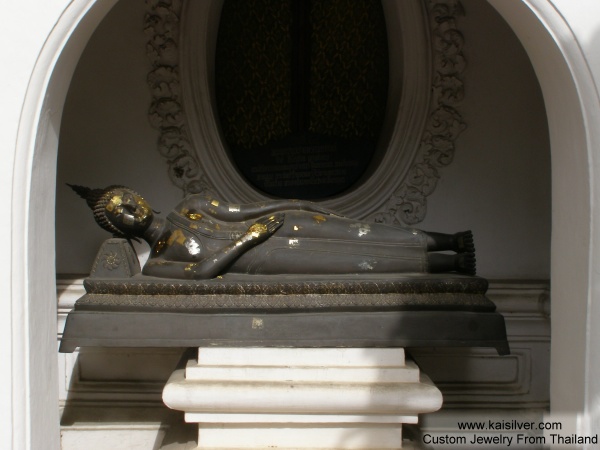 This is an old antique Buddha statue, about 5 to 6 inches in length. The reclining Buddha has been moved from another location to this Thai temple. The gold patches that you see on this reclining Buddha statue are thin gold leaves. These are given as offerings in most Thai temples. Devotees pray with a few incense sticks, one or two lotus buds, a candle and fine gold shits that are folded into a small piece of paper.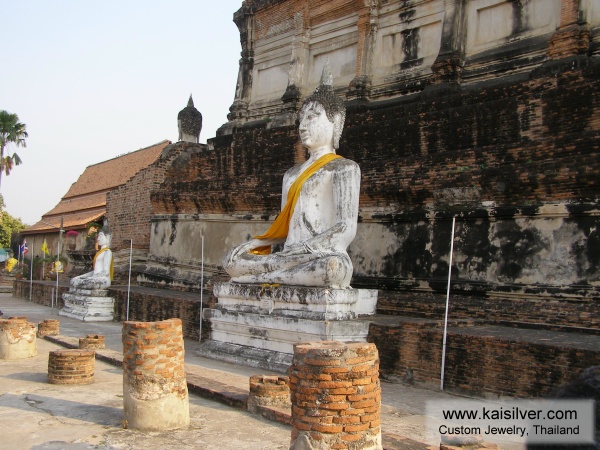 An old Buddha statue from an ancient Thai temple. As you can see from the image, the temple has been damaged in more ways than one. This is an open ancient temple in Thailand which was destroyed a few centuries ago. Left to the rain, heat and winds it would surely detoriate further if not maintained. Such old temples are worth visiting, the huge temple complex has some stunning landscapes, unfortunately most of these are broken or damaged.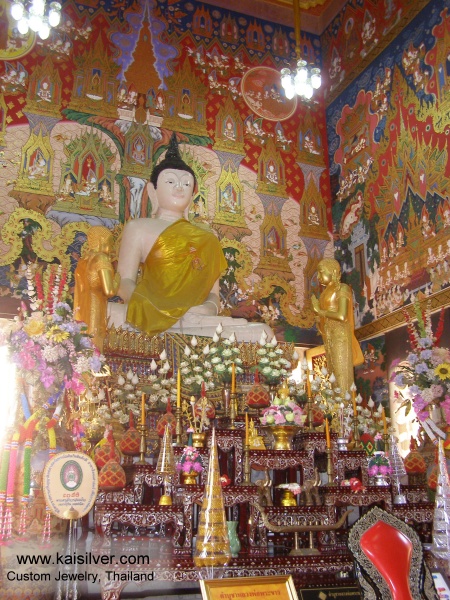 Gorgeous decorations inside this Buddhist temple. The tall sitting Buddha statue is housed in a Thai temple that has some great decorations. The walls have been decorated with some very artistic paintings right from the floor to the ceiling. The emphasis was on the Buddha statue, we therefore did not include the ornately decorated roof of this temple.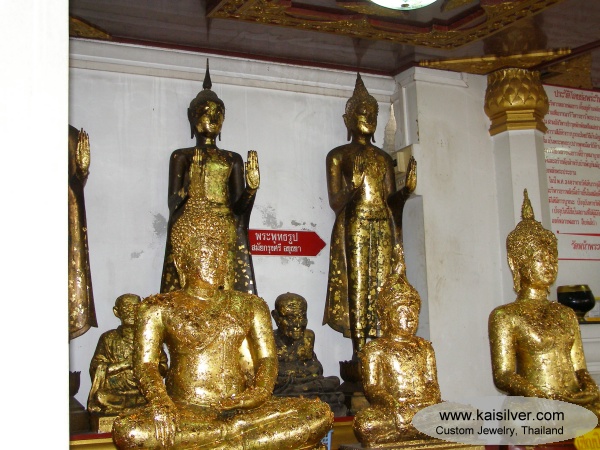 A collection of Buddha statues from the historic Ayuthaya region of Thailand. These are very old Buddha statues and kept open for public worship. The shining gold color on these statues are very thin sheets of gold, offered by devotees. You can see this practice in almost every temple in Thailand. Ancient Buddha statues like these are not often seen in places like Bangkok, you need to travel outside the city limits to experience the true excitement of seeing them.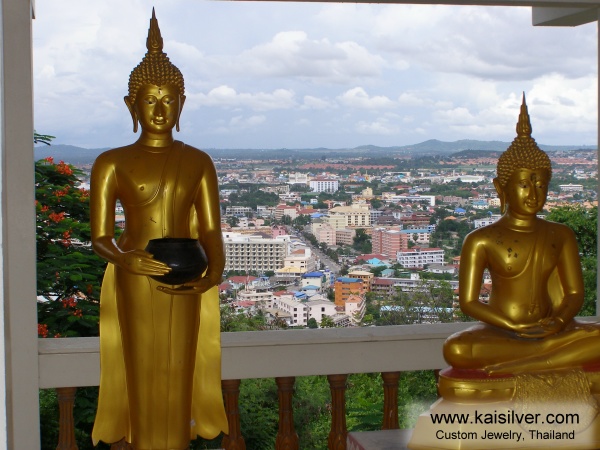 These Buddha statues can be seen in a temple situated on a hilltop in Thailand's Chonburi province. In the backgroung is the famous Pattaya city, the clouds in the sky and the hills add a touch of natural beauty to the otherwise concrete jungle in the background. Not all Buddha statues are very huge, it is generally the antique or ancient Buddha statues that draw the maximum number of devotees. This temple in Chonburi seemed to have more foreign visitors as compared to local Thais.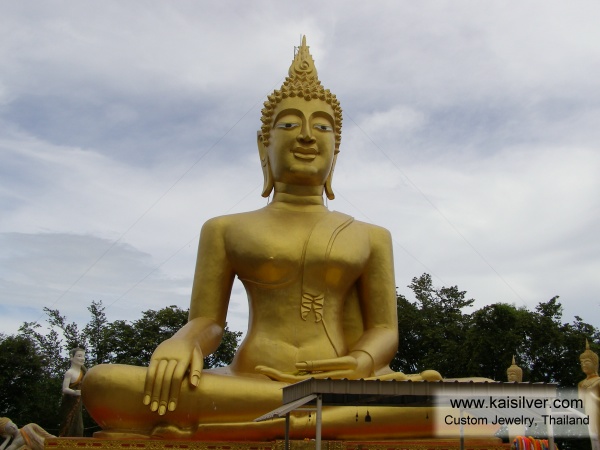 Considering that it is located in the open, this big seated Buddha statue is very well maintained. You can well imagine how large this Buddha statue is when you observe that it easily dwarfs, the tent that is partially visible on the right bottom portion of the image. The bright gold color of this Lord Buddha statue helps bring out details perfectly, darker Buddha statues are best photographed when there is sufficient light all around.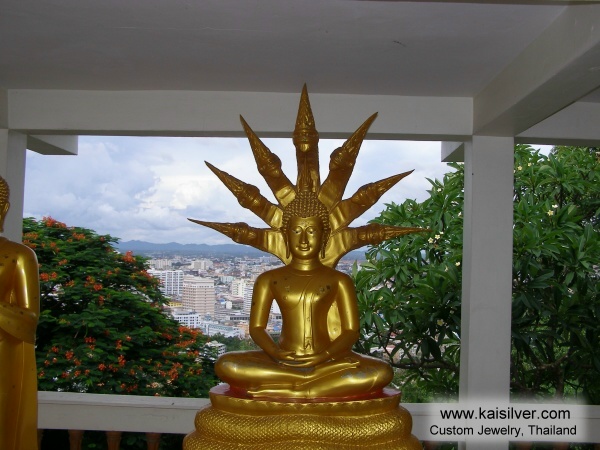 A seated Buddha with a unique and interesting decoration, once again from the hill top Buddhist temple in Chonburi. The backdrop is the famous Pattaya city with all it's concrete constructions. Not many people visit temples in Pattaya but, this is a temple worth seeing. You need not be a devout Buddhist to feel the peace and calm in these Thai temples.