Bio Products, Thailand Responds To International Demand
Asian countries like Thailand have a large workforce engaged in agriculture and agricultural based activities. The international demand for bio based products has been phenomenal in the past decade. With a little bit of planning and enthusiasm, many of these Asian countries could become leading suppliers of bio based products. Not all countries have responded with equal efforts but, the story of Thailand has been encouraging and impressive.

When you talk about bio based products, the basic raw materials are derived through cultivation. But inorder to capture international demand for bio products you need more than raw materials. There is a chain of activities that need to be performed before the bip product can reach international quality standards. This is where new and additional efforts are required. Thailand has invested time and money into developing these and the returns have started to flow in. Most of the raw materials used to make bio products are not very expensive, what adds value is the processing, packaging, branding and marketing of the products.

This report was compiled by a small team from Kaisilver, the world's leading online custom made jewellery provider. We are not engaged in producing or marketing bio products, none of the products shown in this report are sponsored by us. The idea of compiling this report is to make the general public aware about happenings in Thailand. The topic of this report was decided after visiting the Bangkok Bio Products Fair. The products and narrations will give you an interesting insight into the development of the bio based sector in Thailand.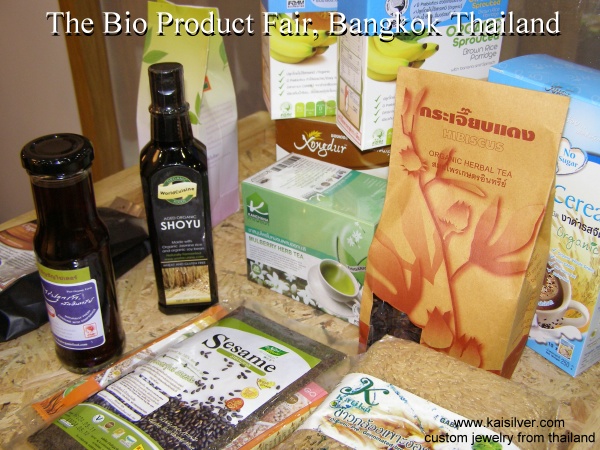 One of the very interesting bio product range related to brown (unpolished) rice. This is an agricultural produce that has been known to the Thai people for centuries. Local people are aware that brown rice helps keep the digestive system in good condition. However medical research today has found that unpolished rice has tremendous nutrition value. Brown rice is rich in fibre and this helps scrub cholestrol from the blood. Sugar levels in the body are better controlled by the consumption of brown rice too. Thai brown rice has a ready market in the U.S and also in many European countries.

Much of the brown rice exported out of Thailand is used for conventional rice cooking, however the Thai Bio Products Fair had something more interested - made from brown unpolished rice. Quick cooking

brown rice porridge

and even

crisp snacks

were made from brown rice flour. This is indeed a good and convenient way to get the benefits of brown unpolished rice even if, you are not a rice eater. The product development that has lead to the production of these new products will have longterm benefits for thai bio product exports.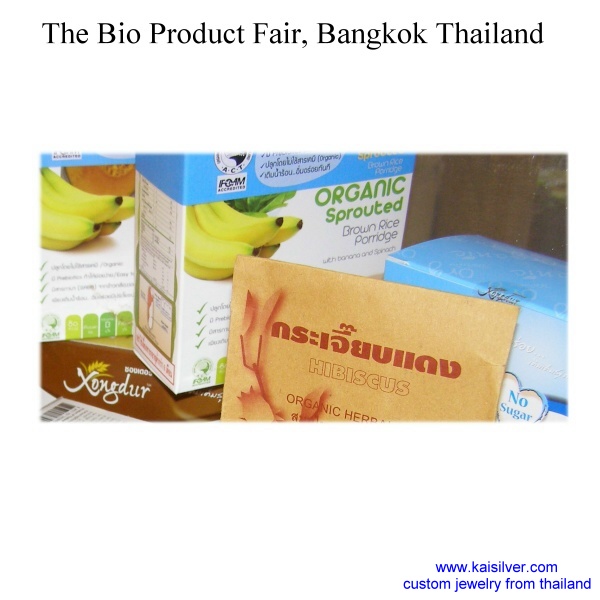 Not everything at the bio product show was about eating, other interesting products made from agricultural or bio based raw material were also on display. An interesting development related to dried rice stalk was a true winner. With large scale rice farming carried out in Thailand, dried rice stalk that remains after the rice is harvested is readily and abundantly available. A bio product on display used

dry rice stalk and organic glues to produce, hard sheets

. This material could be cut and assembled into small boxes. You could even make pen stands or watch boxes from this material. There is no doubt that innovative products like this, will prove very beneficial to the Thai economy. Dried rice stalk costs almost nothing but the added value that results from making of the boxes is tremendous.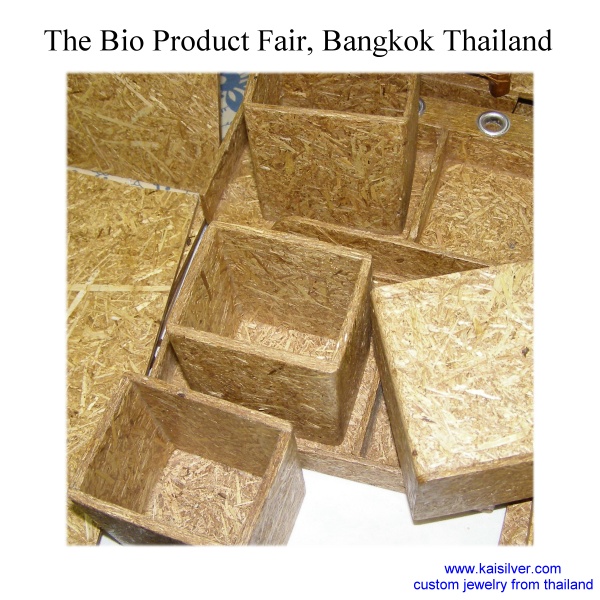 The rapid progress made in development of bio based products by Thai manufacturers is very impressive. The packaging, branding and marketing will take time to reach perfection but, the direction and capability is already there. With most raw materials available locally, the benefits of doing the processing and packaging within the country are quite obvious. Dried rice stalk for example, is worth almost nothing,. But if Thailand merely exported dry rice stalk without processing it in any way, the price would be very cheap and export earnings would be slim. The added value effect is best seen when the entire process which includes packaging, is done inside the county.

A more comprehensive report along with more bio based Thai products can be seen at http://www.leisure.food-recipe-cooking.com/thailand-bio-products-fcr-01.htm Do review the report and email us your thoughts at easyrambler@rocketmail.com We always appreciate your comments and suggestions.

Before we wind up this brief report, we would like to clarify one important issue. Kaisilver the world's leading online custom made jewellery provider is not involved in the production or marketing of any of these bio products. The report was compiled by our team to spread public awareness on developments in Thailand. We do not recommend or sponsor any of the bio based products discussed or displayed here.